---
SmartSDR™ for iOS – Software user guide
---
1.
General
This Manual can be opened from inside the App or directly using the following link:
http://go-to.me/smartsdr-manual
. A second Manual covering the Tools of SmartSDR for iOS is available here:
http://go-to.me/smartsdr-tools-manual
. If you prefer a printed version, just tap on the PDF Icon on the first page to download a PDF file.
Please note: In case of issues with the App, you will find a lot of possible reasons and solutions in the last chapter "Common issues" of this Manual.
1.1.
About this Manual
This App is heavily based on SmartSDR for Windows. For this reason, this Manual assumes that you are already familiar with SmartSDR for Windows. It does not cover or repeat things that are almost identical to SmartSDR for Windows. Also terms like Panadapter, Slice etc. are not explained.
For this, please consult the brilliant FlexRadio SmartSDR for Windows Manuals which can be found here:
http://www.flexradio.com/support/downloads
This Manual mainly covers things that are different or new to SmartSDR for Windows as well as general usage hints that only applies to an iOS App.
For those who already read the Manual and just like to read what's new in the most recent update, all sections covering changes are marked as follows: UPDATE V2.9
2.
About this App
I developed this App because I got used to and really like the nice, clean and straight-forward user interface of SmartSDR on my Windows PC and wanted to have the same for my iPad (and iPhone).
This goal in mind, I started developing this App around January 2016. I tried to implement as many features as possible of SmartSDR for Windows and as much as would make sense for my App. Of course, not everything of a Windows and Mouse driven Software makes sense to take over to an iOS and touch driven App. For instance, on the Windows environment you have mouse-over or hover effects which can be used to display tool-tips or additional menus and you have a mouse scroll wheel. Such features are not available on touch devices. Also touching screen locations is less precise as using a mouse. On the other hand, panning, zooming and other gestures are easy to use on touch environments. I tried to merge both approaches as best as possible but the main goal was always to let my App look and feel like SmartSDR for Windows.
My second goal was to add features to the App that I am currently missing in SmartSDR for Windows or features for which I have to run additional separate Software on my Windows PC. For instance, I would like to see a band-map and DX-Cluster Spots inside the Panadapter. So this is now possible with my App.
Many OMs have tested my App and have helped to make this App as useful as it is today – many thanks to you at this point!
For the future, I have several ideas, what can be added to make this App even more powerful and useful. Just recently, I added a Logging feature which was on top of my priority list but I am also interested in listening to your suggestions.
Demo Mode
A few notes about the Demo Mode: This mode basically tries to emulate a FlexRadio 6700 device. Of course, it can't fully simulate a real device. Instead, it uses a network recording which sends the corresponding VITA FFT, Waterfall and Audio data to the App and the simulator responds to the FlexRadio Ethernet API. This means of course, you can't really tune to another frequency or hear the effects of applying filters etc.. However, you can play around with the user interface, change settings etc. but of course they will have no affect. Also, because the recording data was quite huge, I reduced the amount of data so the App doesn't get too big. This also reduces the quality of the audio. Audio from your real FlexRadio is much better and similar to SmartSDR for Windows.
2.1.
Introduction
You can download the App from the AppStore for free and run it, even if you don't own a FlexRadio. In this case, you can use the Demo Mode which emulates a FlexRadio device. This is useful, if you like to take a glimpse at the user interface and features before buying the App.
If you like to use the App along with your FlexRadio Rig, you need to unlock this feature as explained next.
Further Below, the chapter Using the App will explain how to use the App. This applies also for the Demo Mode even though not all options and settings can be emulated in Demo Mode of course and thus, some may just have no affect in Demo Mode.
2.2.
Unlock FlexRadio Access
In order to use this App along with your FlexRadio Rig, this feature needs to be unlocked (purchased). Otherwise, the App can only be used in Demo Mode.
This purchasing mechanism uses Apple In-App purchase. Please see here to learn how In-App purchases work, what happens when using multiple devices or in case you lost your device.
To unlock FlexRadio access, after starting the App, select the Tools Tab at the bottom (1), then tap on the big FlexRadio access Icon at the top (2) and tap on buy (3).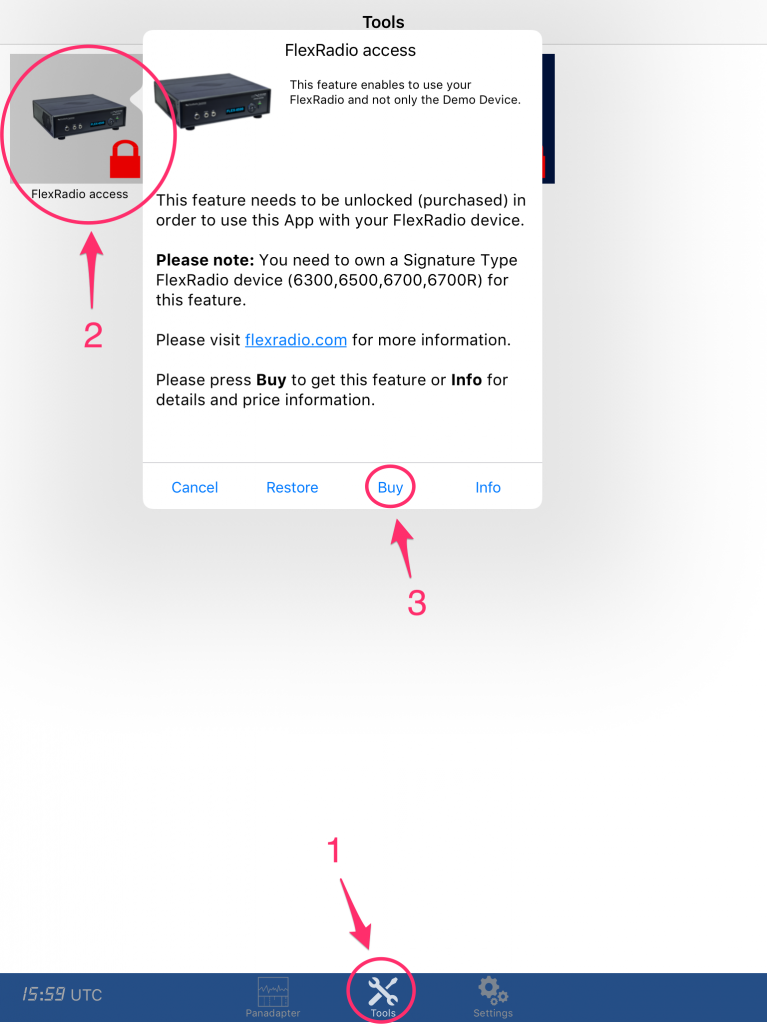 After this, you will see the pricing information in your local currency and need to enter your Apple ID password or your Finger Print (if enabled).
You never have to pay twice and there are no recurring costs. Once purchased, you "own" this feature and you can run it on up to five devices.
In case you switch your device, like to use the App on additional devices or had to reinstall the App for some reason, just use the "Restore" button as explained here.
After successfully purchasing or restoring this feature, the red lock sign inside the Icon will disappear and you will be able to connect to your FlexRadio device on the Network and not only the Demo Device.
2.3.
About In-App Purchases
In-App Purchases are handled in the same secured way like AppStore purchases.
For payment, just like on the AppStore, you just need to enter your Apple ID password (or Fingerprint – if enabled) and the displayed amount will be paid using your Apple account.
My App doesn't use subscriptions or recurring payments and you only have to pay once to use the selected feature forever – you basically own it.
Even if you have multiple devices, you just have to pay once.
If you lost or sold your device where you purchased a feature via In-App Purchase, don't worry. You can always use the "Restore" button to restore any previous purchase – you don't have to pay twice.
PLEASE NOTE: If the "Restore" button is not working, it might be the case that your purchase has not been synchronized to your device for some reason. But don't worry. Instead, just hit the "Buy" button. You may need to enter your Apple ID or fingerprint and then you should see a message saying that you already purchased this item and if you want to download that item for free again.
2.4.
What you need
You need to have a FlexRadio Signature Series Rig such as the Flex-6300, 6400, 6400M, 6500, 6600, 6600M, 6700 or 6700R device.
It needs to be connected to your network in the same way as if you would run SmartSDR from a Windows PC. Second, you need to have a WiFi Connection to your network in the same way as you likely already have for your iPad or iPhone.
There is nothing special regarding this network or WiFi connection and most likely everything is already setup correctly if you are already using your FlexRadio along with SmartSDR and if your iPad or iPhone already uses WiFi.
You need an iPhone or iPad that runs at least iOS 15. If you have an old iPhone or iPad, I suggest to try the free Demo mode first, before buying. Please note: The FT8 tool is only available on iPads and larger iPhones (Max models).
Remote access
To use SmartSDR™ for iOS from outside your home Network and to remote connect to your Radio over the Internet, since Version 2.0, this App supports SmartLink™.
For more information, please see the chapter Remote access using SmartLink™ further below.
Alternatively, it is still possible to use a VPN for remote access but it is recommended to use SmartLink™ instead.
3.
Using the App
After starting the App, you will see a Tab-bar at the bottom. Each Icon on the Tap-bar  represents a different section of the App. The leftmost Tab (called Panadapter) will be selected automatically after start.
To connect to your Radio or the included Demo Device, just tap on the center of the screen or on the "Con" menu item in the top menu bar.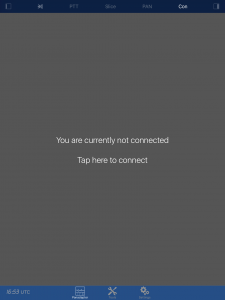 Next, you will see the radio selection menu as follows: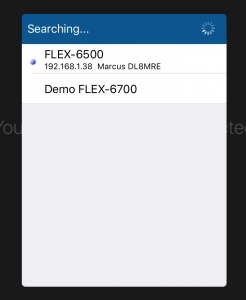 In this example, you can see my Flex-6500 on the network as well as the Demo Device. Just tap on either entry to connect to the device.
Please note: You need to unlock this feature if you like to access to your physical FlexRadio device.
Next, you will see a screen like the following: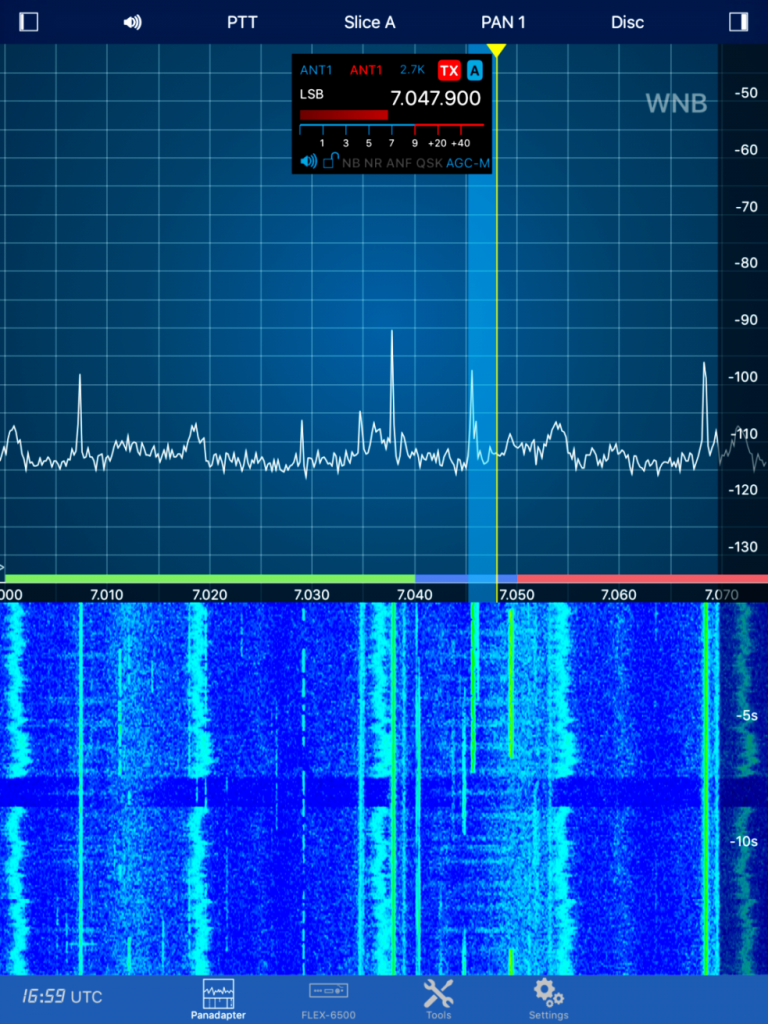 This screen looks very similar to the main screen of SmartSDR for Windows.
From here, you can maintain your FlexRadio by using the menus at the top which opens additional menus or gestures on the screen which will be explained further below.
At the bottom, you can switch to screens which are also explained further below.
To disconnect from your device, use the "Disc" button in the top menu.
The top speaker icon can be used to mute/unmute audio.
PLEASE NOTE: If you don't get any Audio even if unmuted, most likely you will have to use the left Audio menu to switch from local to remote audio using the Switch called "iPad Audio" or "iPhone Audio" (depending on your device). If this switch is "On", your iPhone/iPad audio is enabled. Otherwise your Radio Lineout Audio is enabled.
3.3.
Audio Settings
UPDATE V2.9
The Audio Menu can be used to switch between local (Radio Line-out) or Device (iPhone or iPad) audio output.
Also, there are various Audio settings available, depending on your selection.
At the bottom of this Menu, you can globally enable or disable all TNFs.
If iPad or iPhone Audio is disabled, Audio of the Radio will be send to the Line Out socket of the Radio where you can connect your speakers. In this case, this audio Menu will look as follows: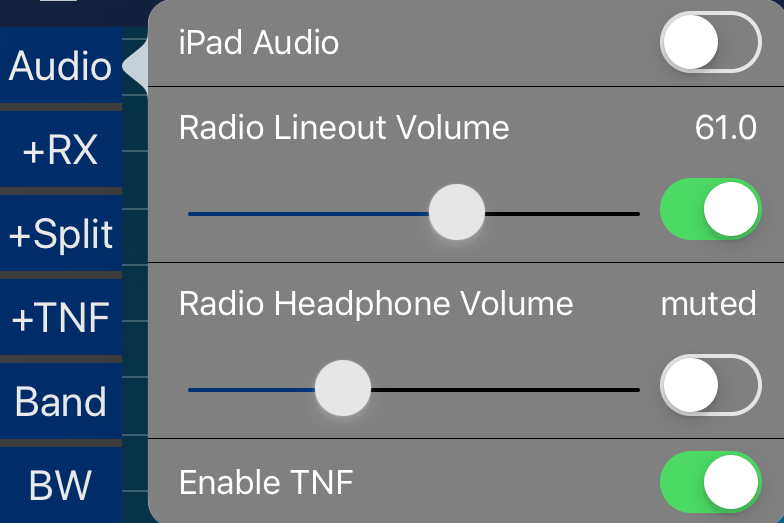 The sliders and switches here just applies to the physical Radio sockets.
If iPad or iPhone Audi is enabled, the menu will look as follows: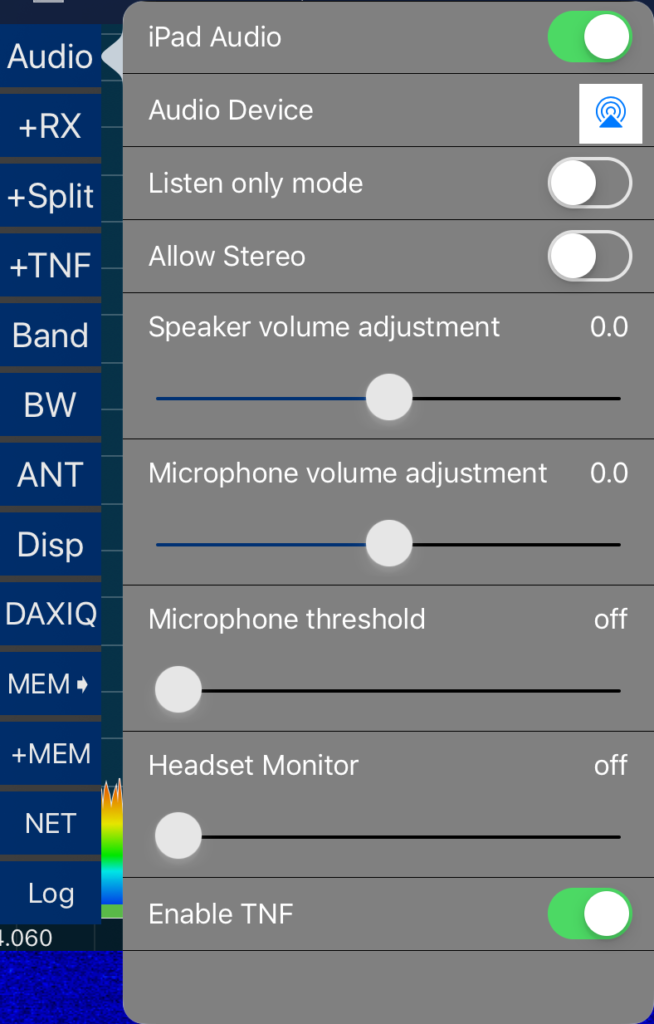 Audio Device
The Audio Device button will show the iOS audio device selection menu which displays all possible Audio devices available from your device such as Headsets, AirPods, Apple TVs or other AirPlay 2 enabled devices. Please see the notes further below to learn how to use these devices.
Listen only Mode
This mode disables PTT and the transmitter as well as Audio Input from your device. You can use this mode, if you like to prevent accidental transmissions. However, this Mode is required if you like to send your Audio to an AirPod or Apple TV or other output-only Audio devices.
Allow Stereo
iPhones, starting from iPhone 7 have Stereo speakers. The setting "Allow Stereo" will enable using these speakers in Stereo mode. However, as Stereo mode will decrease the main Audio gain, this setting can be used to switch off or on Support for Stereo output.
Some Headsets (e.g. from Logitech) don't support Stereo Audio listening when used along with the Microphone. For such Headsets, you either have to switch off "Allow Stereo" or use the Headset in "Listen only" mode.
Speaker and Microphone volume adjustment
These sliders can be used to adjust the Audio gain as desired. For instance, if you have adjusted the Radio to an ambient volume for SmartSDR for Windows, you can use the Speaker volume adjustment slider to a similar volume. This volume adjustment is independent from the physical volume buttons on your device.
Microphone Threshold
Using this slider, you can define the audio level at which audio will be transmitted. This can be used to prevent transmission of ambient sounds.
If ambient sounds are no problem and in normal situations, this slider can be set to off (far left).
Headset Monitor
The MON Button for the Radio only works locally on Headsets and Mikes physically connected to the Radio. This Headset Monitor option however offers local Headset Monitoring. When moving this slider to the right, Headset Monitoring is turned on and the Volume will be adjusted accordingly.
Please note, there will be a noticeable delay in playing back audio from the the Mike to the Headset speaker. There will be further delays and latencies for the Audio which is being transmitted so this monitoring never reflects what is being transmitted. Some HAMs convinced me that such a monitoring feature would be useful anyways so it has been added with Version 2.6.2.
3.4.
Frequency Tuning
I spent quite some time to find the best option for frequency tuning as this is essential for a convenient, fast and flexible usage of the App.
For this reason, there are a couple of options for Frequency tuning. Which one you chose depends on your preferences and the situation.
The following screen illustrates some of the options:
Moving the slice
You can move the slice directly with your finger up and down. For this, just tap and hold your finger on the slice, the slice starts blinking, then you can move the finger to the left or right to adjust the frequency.
Use the tuning wheel – the Tuning Panel

First, tap on the Slice flag to open the Slice detail screen.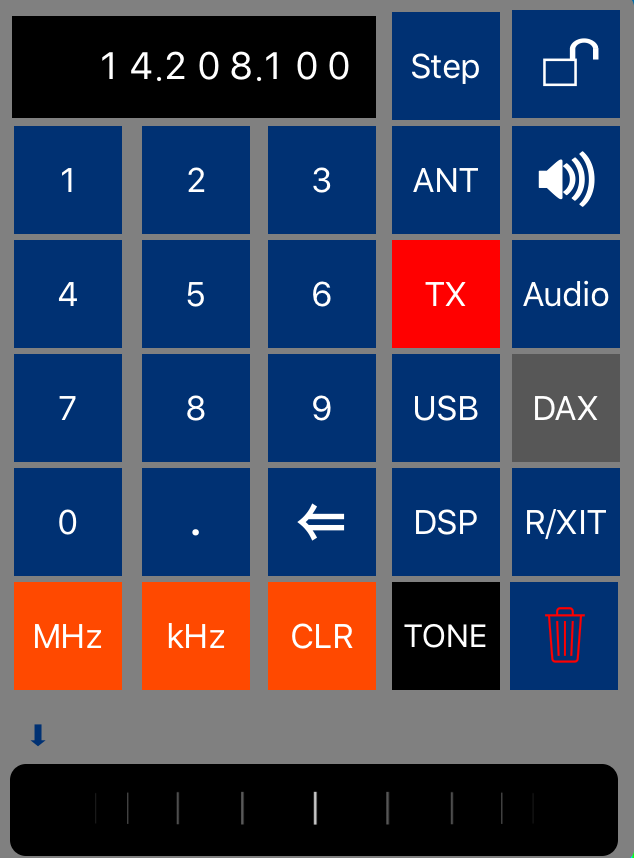 At the bottom of the screen you can see the tuning wheel. Now you can spin this wheel clock- or counter-clockwise to adjust the frequency. This wheel regards the Step setting which can be changed using the blue Step button.
The Speaker Icon will mute this particular slice. To mute all other slices, except for the current slice, just double-tap on the Speaker Icon. Double-tapping again will reverse this.
Under Settings, you can chose to reverse the tuning direction if you like.
Direct Frequency input
You can also directly enter the desired frequency. For faster input, there is no Enter key. Instead, you can just type the Frequency digits, including a decimal point if necessary then finish by either pressing on MHz or kHz. Depending on this, the entered value will be regarded as MHz or kHz accordingly.
For instance, enter [3][.][5][MHz] for 3.5MHz or [7][1][2][5][kHz] for 7.125 MHz.
The [<=] Button is the Backspace button and the [CLR] button will clear all input.
PLEASE NOTE: This slice detail screen can be moved to any location (e.g. if it covers the area on the Waterfall you like to see) by just touching and moving the screen.
Also, there is a smaller version (with less options) available from the right menu when tapping the frequency.
By using the small arrow button in the lower left corner (not shown in the video above) you can toggle between two different layouts of this screen.
It is also possible to connect Hardware Controllers to the iPad or iPhone which can be used for tuning and other Radio controls. Please see the separate Tools Manual for details about hardware Controllers.
3.5.
Slice Filter and TNF maintenance
Filters and TNFs can be maintained in a similar way.
Besides the aforementioned possibilities to create a Slice or TNF, you can also long-press at any location (Frequency) on the Panadapter. This will show a small menu asking whether you like to create a Slice or TNF.
If you tap on the lower end of a Slice or TNF marker, a filter screen appear that allows to step filter values up and down or to enter the desired values directly.
From here, it is also possible to delete a Slice or TNF.
TNFs can also be moved on the Panadapter just like Slices and there is also a separate TNF Menu on the FLEX Settings Screen where all created TNFs can be maintained individually.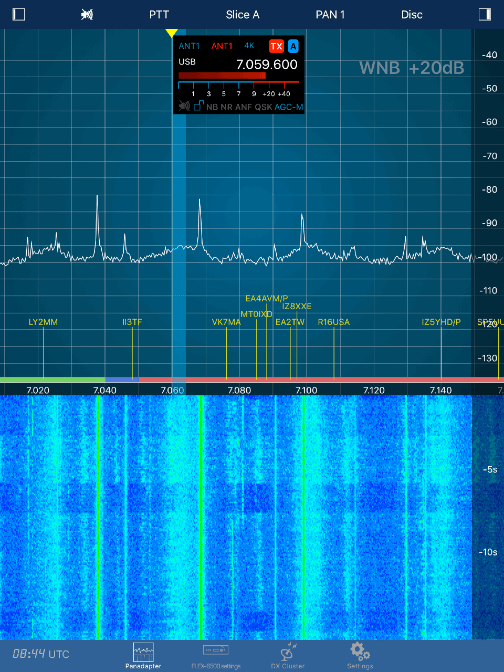 3.6.
Panadapter
The Panadapter screen can be adjusted by many ways:
Scroll the visible frequency window by scrolling the screen left and right
Extend or narrow down the bandwidth by two-finger squeezing or expanding (horizontally)
Change the bandwidth by using the BW button on the left side menu
Change the dB Range offset by sliding up or down the right hand dB range scale
Change the dB Range by two-finger squeezing or expanding (vertically)
UPDATE V2.6.2
If the DX-Cluster Tool has been unlocked, Spots can be displayed on the Panadapter. To adjust the frequency of the currently active slice to the frequency of a Spot, just tap once on the Spot.
If you double-tap on a Spot, the Spot Details including detailed Spot information and HamQTH/QRZ.com lookup will be available.
3.7.
Supplemental Views
In addition to the Main Window, you can open (and keep open) additional supplemental Windows from the View menu.

Tuning Panel
This menu will show or hide the Tuning Panel for the currently active Slice.
PTT
This will show or hide the PTT button. To move the PTT button to another location, just use two fingers to touch and move the button to the desired location.
CWX Panel
This window will be used to send CW. The button at the top right corner can be used to squeeze or enlarge this window.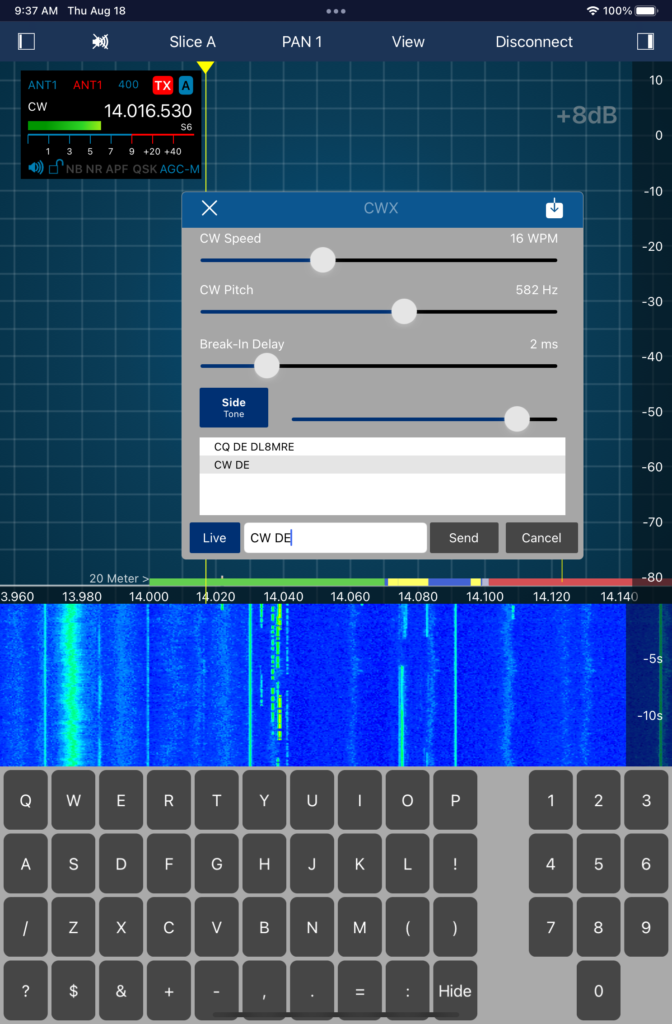 If the Live button is enabled (blue) all characters, just entered will be transmitted immediately – otherwise as soon as the Send button was hit. You can tap on a row in the list to re-transmit a certain line.
If enabled under Settings, this panel will use an alternative Keyboard which is more convenient for CW.
Macros Panel
The Macros Panel will display your CW- or Voice-Macros (depending on your current mode) as small buttons.
In order to get these buttons displayed, you need to maintain the Macro and it's Title under Tools for each of the Macro types. By hitting a Macro button, the Macro will be transmitted. Hitting Cancel will suspend the transmission.
DTMF
This window can be used to send DTMF or a 1750 Hz repeater tone.
Rit / Xit Panel
This window can be used to maintain and operate in Rit / Xit mode
HomeKit
If you are using HomeKit and have maintained (selected) HomeKit devices under Tools, this menu will show the selected HomeKit devices e.g. to remotely switch on your PA or the Radio itself.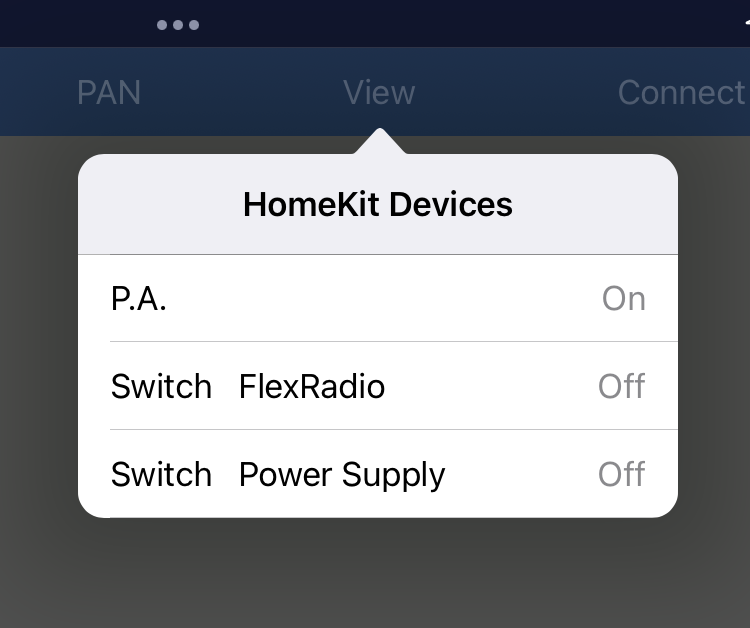 3.8.
Slices and Panadapters
The App can handle as many Slices and as many Panadapters as available on your FlexRadio. For instance the FlexRadio 6700 allows 8 Slices and 8 Panadapters, wheras the 6300 only allows 2 of each.
The App even allows to have the maximum number of Slices (e.g. 8 for the 6700) visible on a single Panadapter.
It is also possible to listen to all audio channels of all slices concurrently.
The only restriction is, that only one Panadapter can be visible at the same time but you can quickly switch between all available Panadapters.
Slices
Slices can be created by long-pressing at the desired frequency or the +RX button in the left menu. They can be moved around as explained in chapter Tuning.
Only the currently selected (active) Slice has a big flag which shows all the details such as Frequency, Mode, S-Meter etc. All other slices have just a small flag which only displays the audio state (on or off), TX Mode and Slice name. Tapping on an inactive Slice will activate that Slice and show the big flag.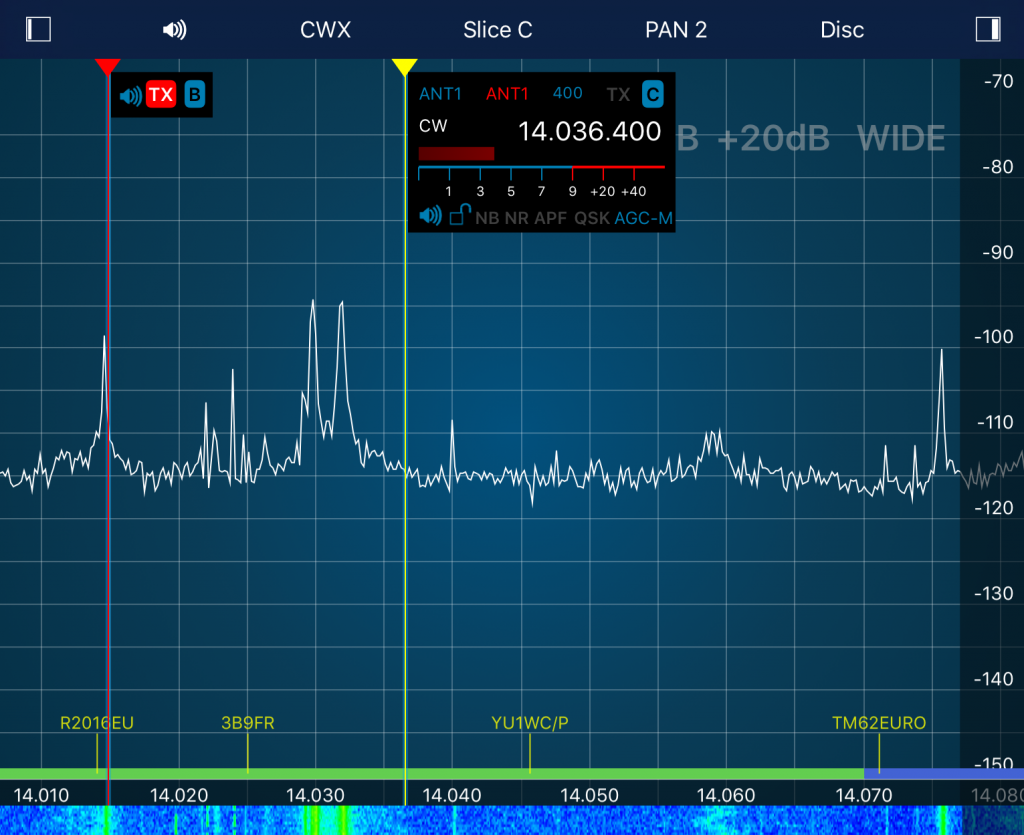 There is also a Slice menu at the top which displays the name (letter) of the currently selected (active) Slice. This menu will open a screen that displays all currently created Slices as follows: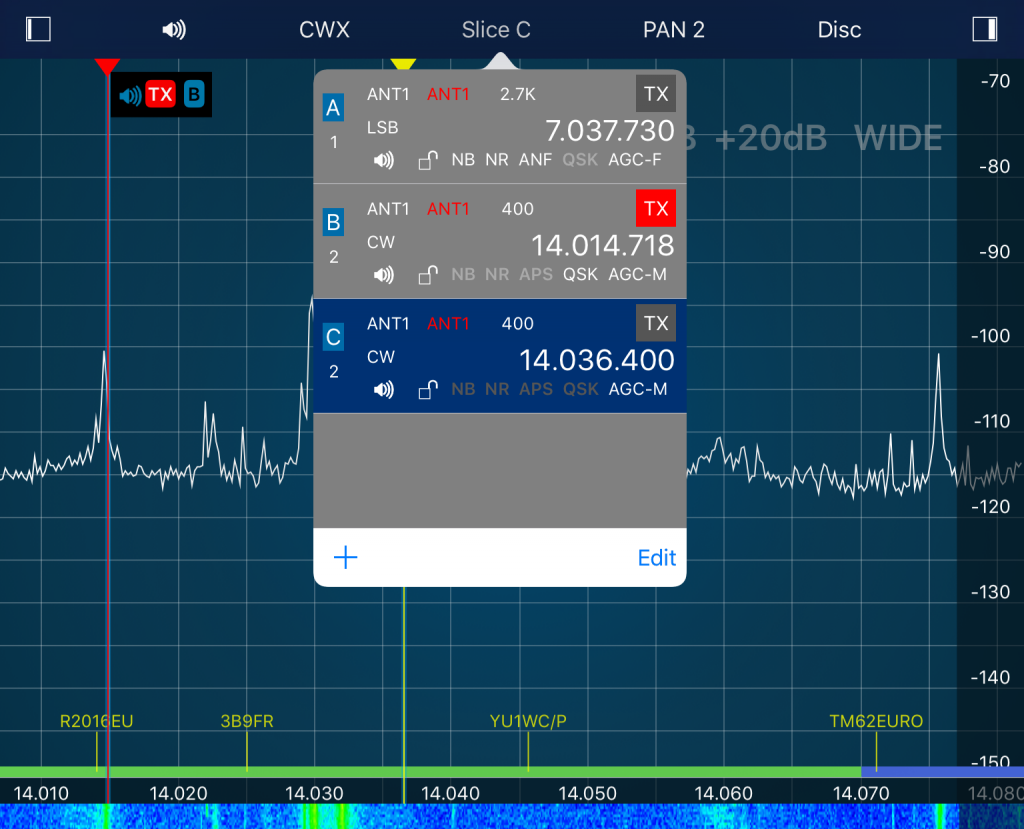 PLEASE NOTE: This list contains all Slices, not only Slices of the currently visible Panadapter. The Panadapter number of each Slice is displayed below the Slice name (letter).
From here, you can select a different slice by just tapping on it. The selected Slice will then become active. Also, the corresponding Panadapter will be selected and the Panadapter center Frequency will be moved to the Frequency of the selected Slice. This way, you can quickly jump to any available Slice.
From here, you can also change any Slice to TX Mode by hitting the TX button of any Slice.
Also, you can add new Slices (+ Button) or delete a Slice (Edit or swipe Slice entry to the left).
Panadapter
The Panadapter menu at the top works Similar to the Slice Menu. It shows the number of the currently selected Panadapter and once selected, you can see all currently existing Panadapters.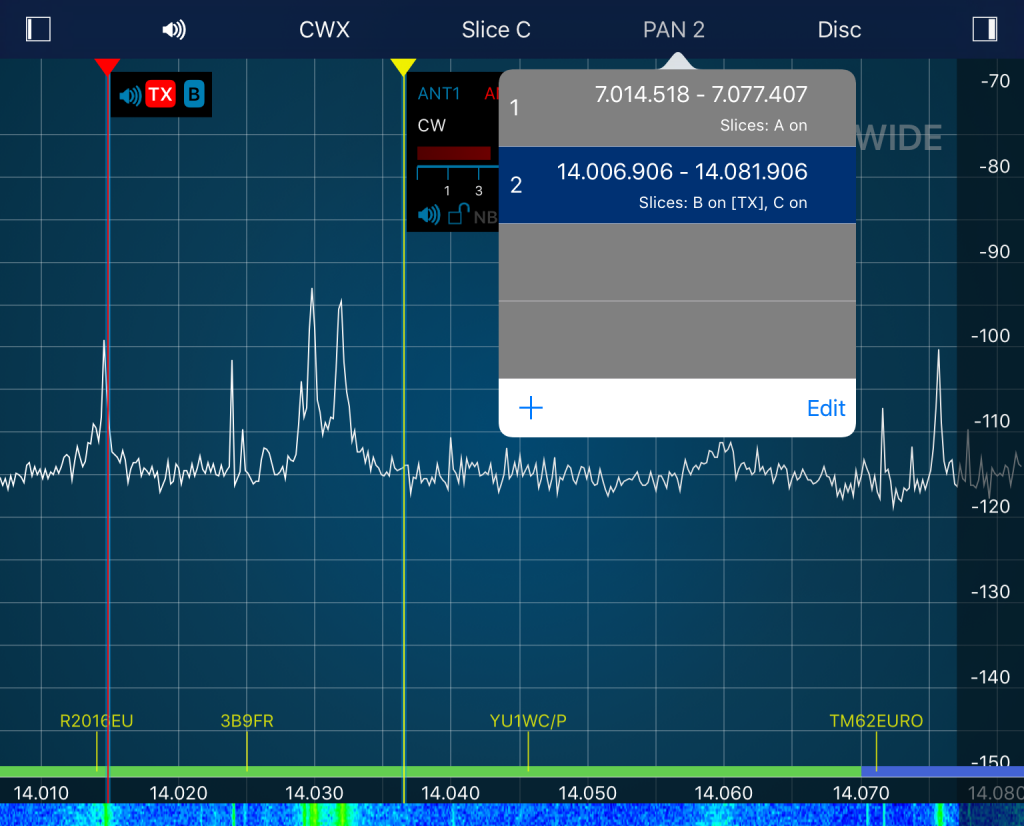 Tapping on an entry will switch to the selected Panadapter.
Panadapters can also be created (+ Button) or removed (Edit or swipe Panadapter entry to the left) in the same way as described for Slices.
3.9.
Remote access using SmartLink™
FlexRadio Systems introduced a so called SmartLink™ remote access feature in their SmartSDR v2.0 software release which facilitates the ability to securely and easily operate a FLEX-6000 SDR over the Internet without the use of VPN or specialized hardware. All of the necessary software to use SmartLink™ is integrated into SmartSDR v2.0 for Windows, Maestro, macOS and iOS clients for seamless remote operation.
In order to use SmartLink™ with this App, you will need to have at least version 2.0 of SmartSDR installed on your Radio and you will have to Register your Radio for Remote Access via SmartLink™ using SmartSDR for Windows (Please see the SmartLink Setup Guide for details).
Once these preconditions are met, you just need to switch on SmartLink on the Settings screen.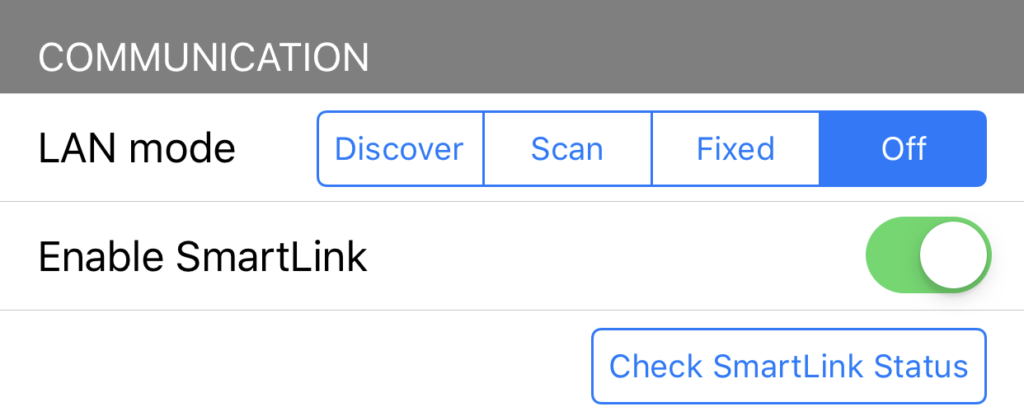 The button Check SmartLink Status can then be used to check if you can access SmartLink. Once you hit this button, you will be prompted for your SmartLink credentials: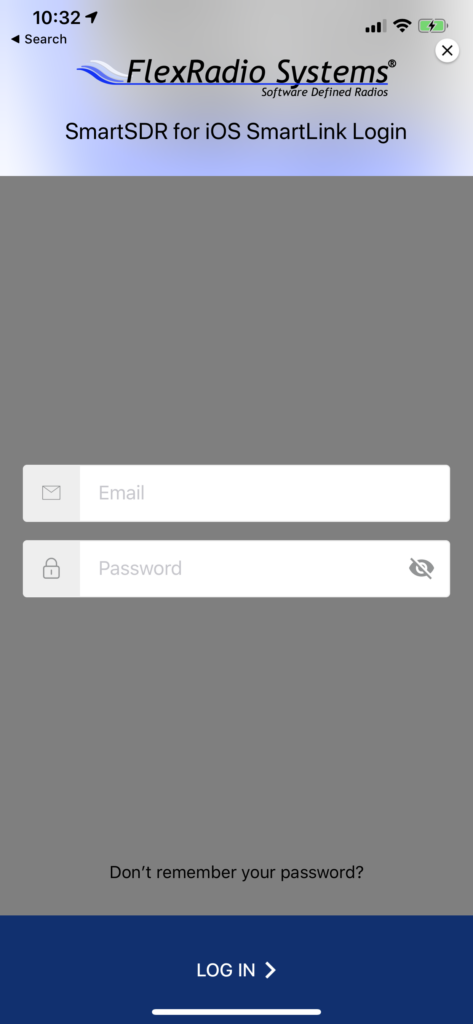 Here, you need to enter the E-mail / password pair you have used while registering your Radio for SmartLink.
Please note: your email address has to be entered in small letters.
PLEASE NOTE: Social Logins like Facebook or Google have been removed from this App for security and privacy reasons. Facebook and Google are tracking your usage data when logging in.

If you already registered for SmartLink using Social Logins, I recommend to un-register from SmartLink and re-register again using an email/password pair. This can only be done locally on-site and using SmartSDR for Windows.

In case you still want to use Social logins, you can enable Social Logins from the "Extended settings" screen under Settings of this App.

IMPORTANT: To show the login screen again, you need to toggle the "Enable SmartLink" switch first to off and then to on again.
After you entered your SmartLink credentials and tap on "Log in", you will see some diagnostic information while the App tries to connect to SmartLink and finally you should see your connection status and user information.
If this fails for some reason, just try again and if this doesn't resolve your issue, try to use SmartLink from your SmartSDR for Windows version.
If you are successfully able to connect to SmartLink, you now just connect to your Radio from the main Screen of your app as usual: Just tap on the Panadapter main screen or the Con button at the top.
After the SmartLink connection screen, you should see your Radio in the list of available Radios.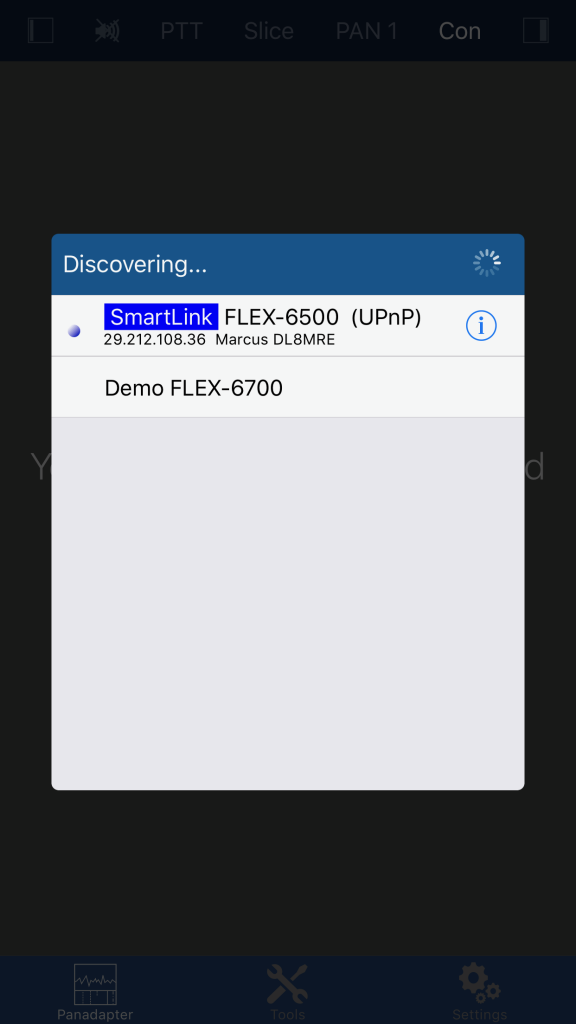 The blue SmartLink will be displayed in front of the Model to indicate that this Radio is available via SmartLink for remote access. By tapping on this entry you can connect to your Radio as usual.
In case of issues with SmartLink, please head to the "Common issues" section of this Manual. There is a dedicated chapter dealing with possible SmartLink issues.
Multiple SmartLink accounts
UPDATE V3.7
With the introduction of MultiFlex by FlexRadio it is more likely that you have more than one SmartLink account. For instance if somebody else is sharing the Radio with you or to access your Radio at your HAM Club.
Starting with App Version 3.7. it is now possible to maintain multiple SmartLink accounts in a convenient way: Each SmartLink account you once log-in will be stored automatically. A new menu allows you to easily switch between these accounts without the need for entering the credentials again.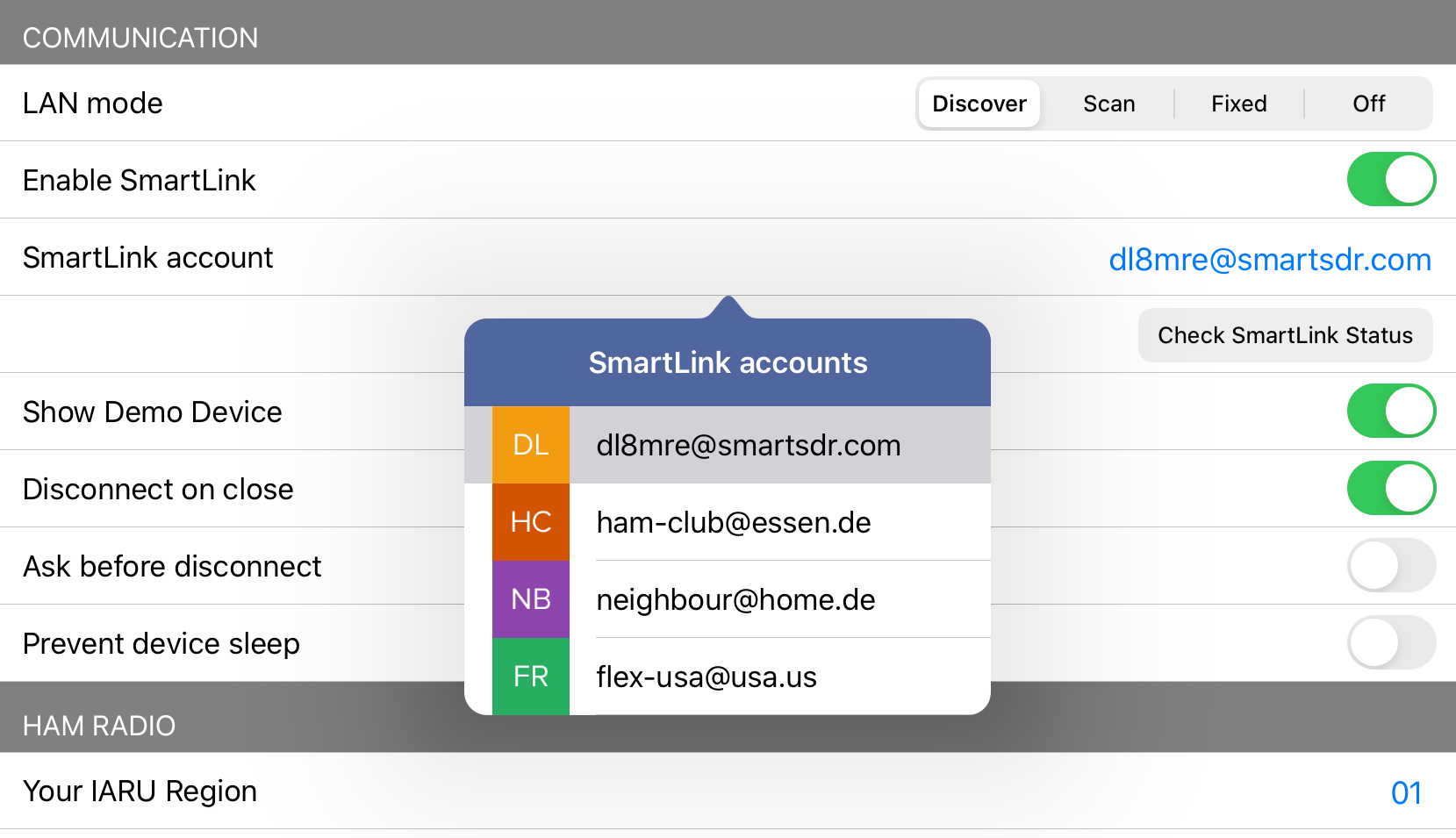 A new menu SmartLink account allows you to easily switch between these accounts without the need for entering the credentials again. Just tap on an account of the list to switch to that account. The next time you use SmartLink that account will be used.
If you want to delete an entry from the list, just swipe the entry to the left, as usual.
To add more accounts, just use the Check SmartLink Status button to Logout from the current account. Then use this button again to login to another account which will then be stored as well.
4.
Settings
The App contains two different Settings sections.
The general Settings, which can be opened by hitting the right-hand gear icon at the lower Tab bar will be used for all settings, not related to a particular FlexRadio device. There are various settings available for connecting to your device or settings for the general behavior of the App. This manual can also be accessed from this Settings menu.
Another Setting section will only appear, once you are connected with your FlexRadio. This Setting is called Flex Setting and the Icon for this Setting is located next to the Panadapter Icon at the bottom.
This Setting screen is used only for Settings or information about the currently connected FlexRadio.
4.1.
General Settings
General Settings are divided into seven sections.
COMMUNICATION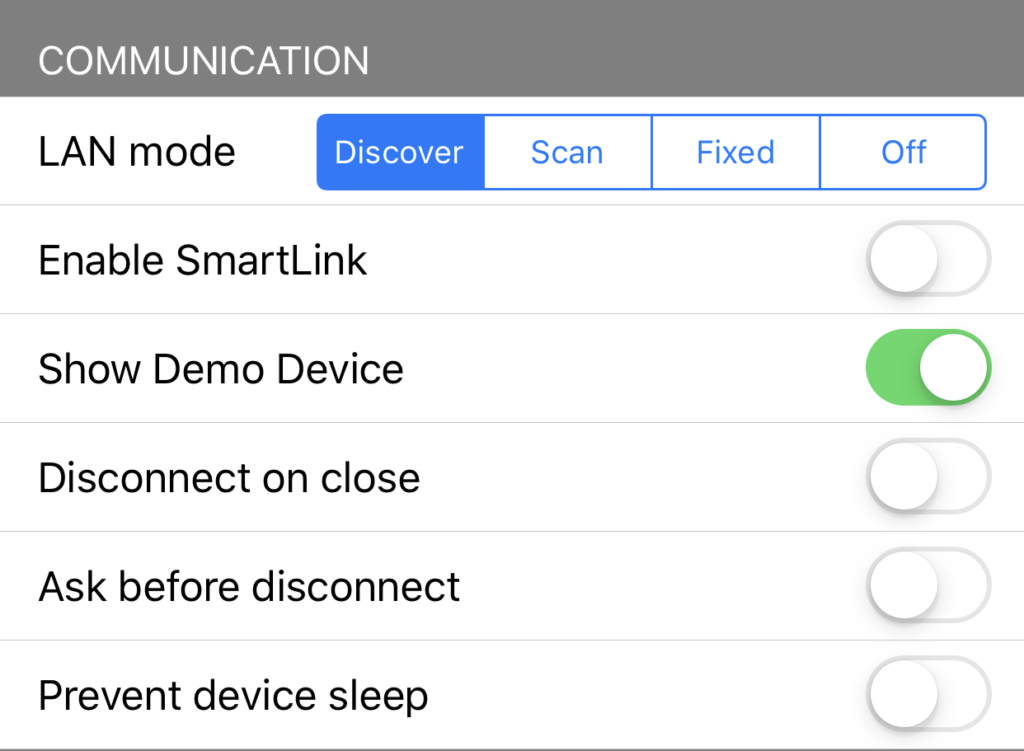 With LAN mode you can chose between three different modes on how to connect to your Radio on your local network. Discover is the regular way to find your Radio on your network and should work in almost all situations. Scan can be used to find your Radio by performing an IP Scan of your current Network. This takes longer but will find your Radio if your Network doesn't support the Discovery mode. In this case, the Subnet of the IP entered below will be scanned. Fixed can be used if you know your Radio's IP Address and in case this IP Address always remains the same. In that case, you can enter this IP Address below. If you have more than one FlexRadio, you can enter more than one IP Address separated by Comma.
By switching LAN mode to off, the App will no longer try to find a Radio on the local network. This setting is useful if you only want to use SmartLink instead (see below).
The Enable SmartLink setting and the below displayed Check SmartLink status are to support remote access using FlexRadio's SmartLink technology. For further details, please read chapter Remote access using SmartLink™.
Show Demo Device is normally switched on. If off, you will no longer see the Demo device on the Radio connection screen.
Disconnect on close will terminate a connection to your FlexRadio once the App will be closed which also happens when your device enters sleep mode. When switched on, the App continues to run in the background. This way, you can continue to listen even when running another App. Other Apps may however occupy the whole Sound interface which will cause this App to discontinue to provide sound.
Please note: Running the App in background generates network traffic and drains the battery.
Prevent device from sleep will prevent your iPhone or iPad entering the sleep mode when idle.
PLEASE NOTE: The sleep mode will save energy. This setting will drain the battery if not connected to power.
HAM RADIO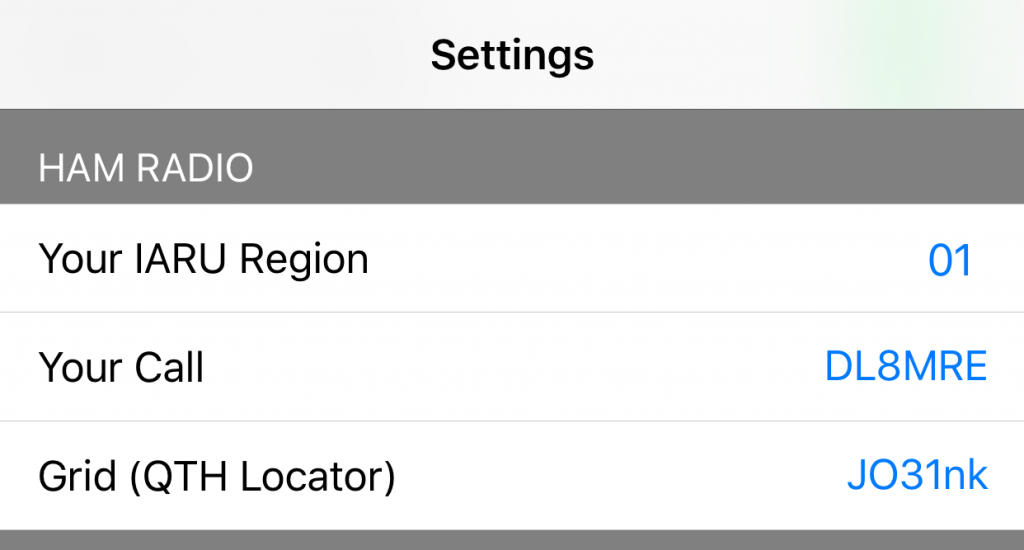 Here, you can select your IARU region. This setting is currently used for the Bandmap and the DX-Cluster Tool. Please note, there is a dedicated entry for the US which offers a slightly different Bandplan to the IARU Region 2 Bandplan.
The Your Call field will be used, for instance, for the Logbook Tool to fill the corresponding ADIF Fields appropriately.
The Grid (QTH Locator) field will be used for the DX-Cluster Tool to show your current location on a Map and calculate distances and bearings.
CALL DATABASES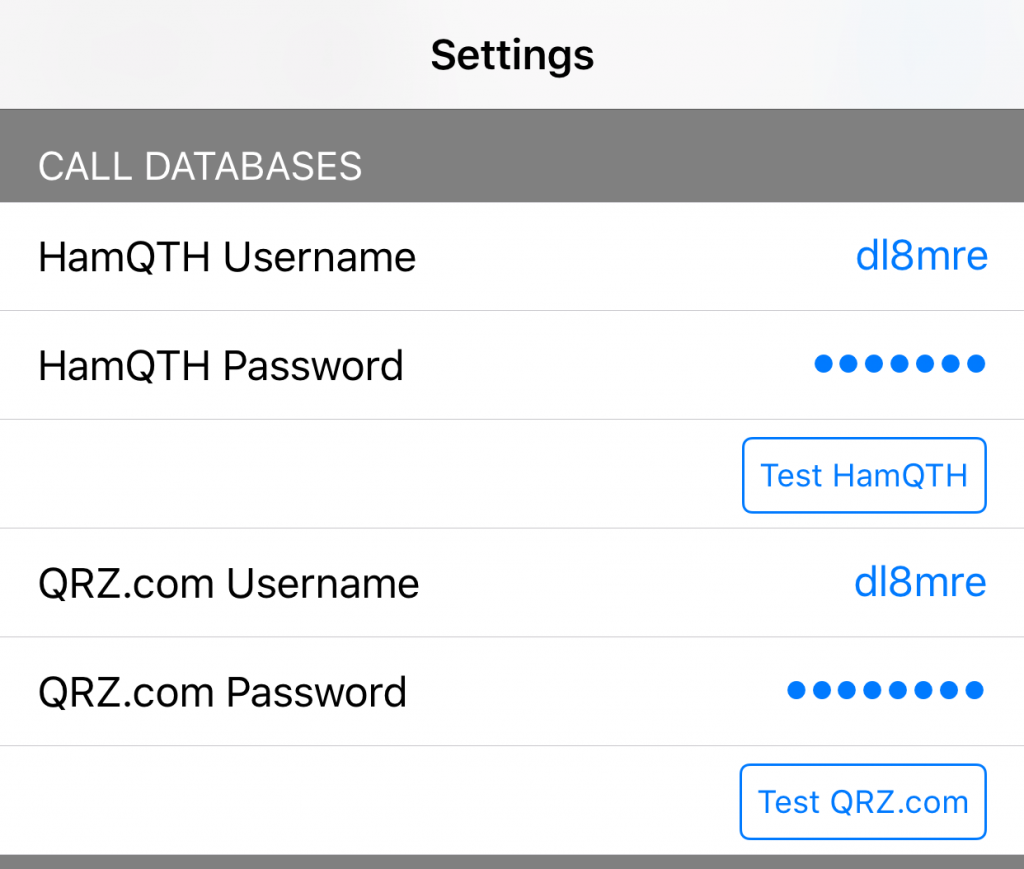 The DX-Cluster Tool and the Logbook Tool are providing features to lookup Calls and at either HamQTH or QRZ.com. Here you can enter your credentials in order to use these features. After entering your credentials, please use the Test Button to check if the credentials are working.
PLEASE NOTE: For using HamQTH and/or QRZ.com you need an account on each platform. For QRZ.com, in addition, you need an active XML Logbook data subscription (see https://ssl.qrz.com/products/index.html).
GENERAL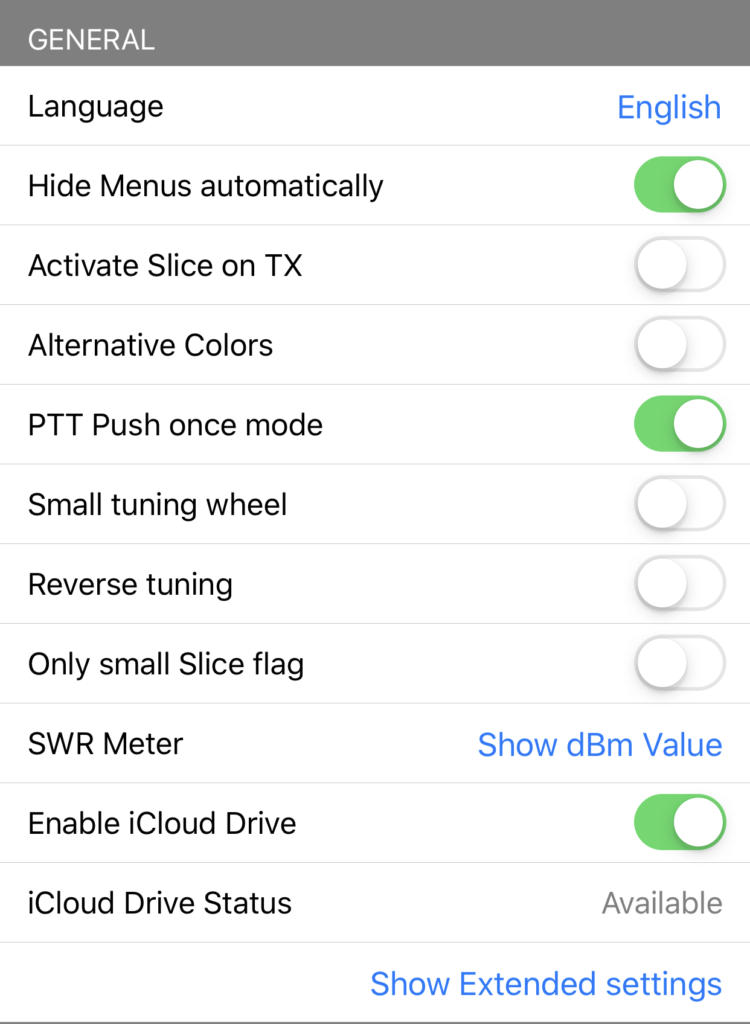 Language will change the user interface language of the App. Currently, only English and German is supported.
Hide Menus automatically will cause the left and right menu to hide whenever you tap on a different location of the screen. This is especially useful for smaller displays.
Activate Slice on TX will cause any Slice which was set to TX Mode to get selected (active) automatically once the PTT or CWX Send button has been pressed.
Alternative Colors will change the color of many menus and screens for better readability.
PTT Push once mode changes the behavior of the PTT button. If this switch is off, you will enter transmit mode as long as you press and hold the PTT button. If PTT Push once mode is set to on, the transmitter will toggle on and off with every push of the PTT button.
Small tuning wheel is useful on iPhones with smaller screens. When enabled and whenever you tap on the slice flag, a small tuning wheel will be displayed instead of the larger window which allows direct frequency input and several mode and slice options. You can also easily toggle between the small and large tuning wheel using the small arrow button on the lower left side of the tuning window.
Reverse tuning reverses the spinning direction of the tuning wheel. If you feel it more natural that the frequency will be increased when scrolling the tuning wheel to the right, just switch this setting on.
Only small Slice flag also saves some screen space for the panadapter. Normally and when this option is disabled, the currently selected Slice will show a big Slice flag with additional information such as S-Meter and various slice settings. All other Slice Flags will be small. If this option is enabled, also the selected Slice will display a small slice Flag with limited information.
Both options Small tuning wheel and Only small Slice flag can also be use on iPads.
SWR Meter allows to display either the dBm or S-Value in the Slice Flag SWR meter. Setting this to Normal will cause no value to be displayed.
The Enable iCloud Drive Setting enables the possibility to access iCloud Drive by this App. iCloud Drive can be used to Im-/Export Log Files from the Logbook Tool or Controller Mappings from the two Controller Tools. Logs can also be shared between different Devices using iCloud Drive.
Tap on "Show Extended settings" to see some more, less frequently used settings which are explained in chapter Extended Settings.
PLEASE NOTE: For more information about iCloud Drive, please see the corresponding Chapter of the Tools Manual.
The iCloud Drive Status line indicates if iCloud Drive is working correctly when switched on.
Version 2.0 offered the option to show or hide the Status bar. This feature had to be removed in preparation of the new iPhone X. Now, the status bar is always visible on any device.
In previous version of the App, Audio Settings were available here as well. These settings have now been moved to the left Audio Menu.
CWX
From here, you can select an alternative, CW optimized Keyboard for CWX or a keyer simulation with Paddle or Straight key. Please see the corresponding CWX Chapter for more details.
When using the alternative keyboard, there will be no space as the space character doesn't exist in CW. For easier reading, a space will be inserted automatically on the CWX screen after a certain time. This time can be set here or it can be turned off completely in the Auto Space setting.
INFORMATION & SUPPORT
This section offers a link to the Manual and the Website.
In case of questions, issues or change requests, please us the Support button located in this section.
PLEASE NOTE: This button will automatically place the App version number and your iOS Version in your support mail which helps to track down any issue. Otherwise I will have to ask. Also, it happens frequently that users miss-type their email Address when using the support form. This will also be prevented by using this button.
APP VERSION
The Version button will give you more details about the currently installed version.
In addition to App updates, I am providing so called Data-Updates. Such Data-Updates can be used to update certain databases of the App such as the DX-Cluster Server database or Bandmap.
This way, I can provide updates easier and quicker without the long lasting AppStore release process.
Once there is an update available, normally, you will get notified and can install a Data-Update straight away. However, my App will only check for Data-Updates once per day and only if you are connected via WiFi to prevent wasting your data plan.
For this reason, please check from time to time, if there is a Data-Update available by hitting the Check for Data Update button.
4.2.
Extended settings
These Extended settings are less frequently used.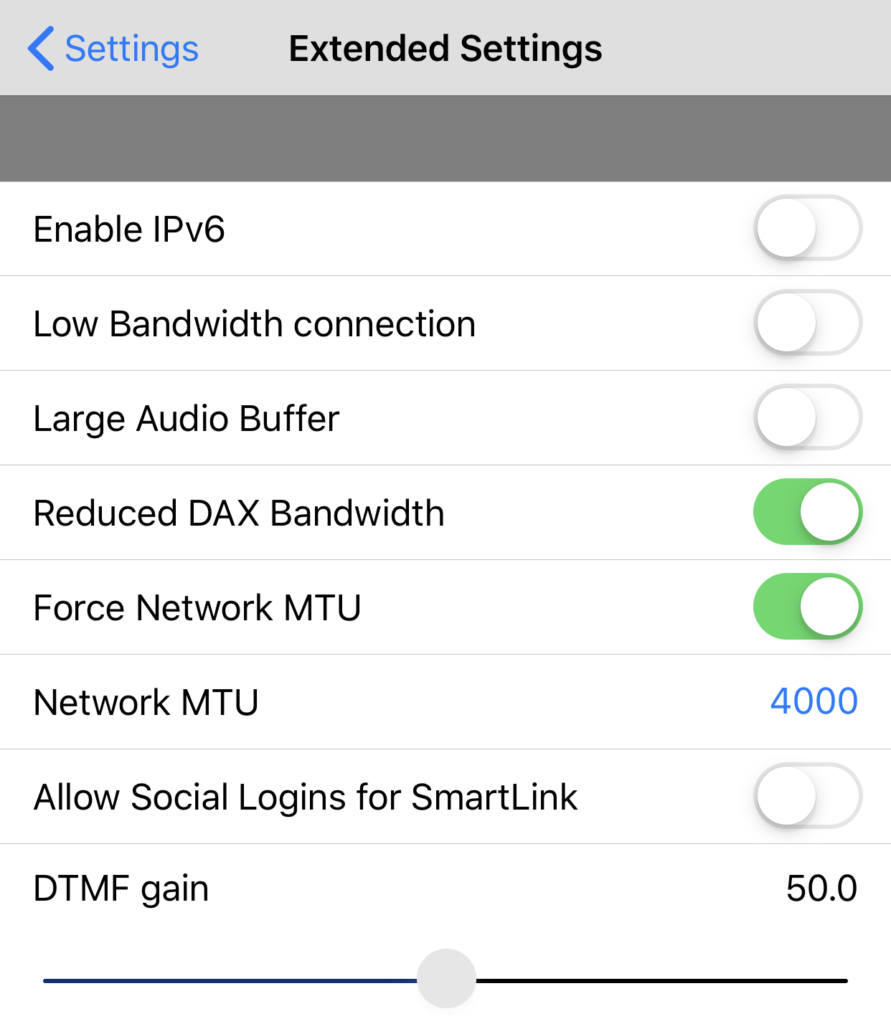 Enable IPv6
Enable this setting if you are using a local (often cheap) carrier that doesn't support native IPv4 communication like T-Mobile US.
Low Bandwidth connection
The Low Bandwidth connection setting can used to force the Radio to use parameters carefully so that it doesn't generate too much traffic. You can use and try this setting in case of connection issues. However, in normal situations you will want to have this setting switched off because it always defaults to certain Band and mode settings (e.g. always on 20 Meter).
Large Audio Buffer
This setting enables a larger audio frame buffer which will better compensate missing or delayed audio data from the Radio. However, some Bluetooth Headsets seem to be incompatible with larger audio buffers so this feature can be turned off.
Reduced DAX Bandwidth
This setting reduces the Bandwidth for DAX if you are running additional Software on a Windows PC that is capable of using this feature.
Force Network MTU and Network MTU
Enabling this setting (default) will force all packets to be sent in a certain (default 1500) packet size. You can try to toggle this setting or change the packet size in case of network issues or missing panadapters.
Allow Social Logins for SmartLink
Social Logins like Facebook or Google have been removed from this App for security and privacy reasons. Facebook and Google are tracking your usage data when logging in.
If you already registered for SmartLink using Social Logins, I recommend to un-register from SmartLink and re-register again using an email/password pair. This can only be done locally on-site and using SmartSDR for Windows.
In case you still want to use Social logins, you can enable Social Logins here.
IMPORTANT: To show the login screen again, you need to toggle the "Enable SmartLink" switch on the Settings screen first to off and then to on again.
DTMF gain
The "DTMF gain" slider will increase or decrease the DTMF Tone gain, when sending DTMF using the Button on the Slice Details screen.
4.3.
Flex Settings
This Setting section is only available once connected to a FlexRadio device because all Settings refer to that particular device.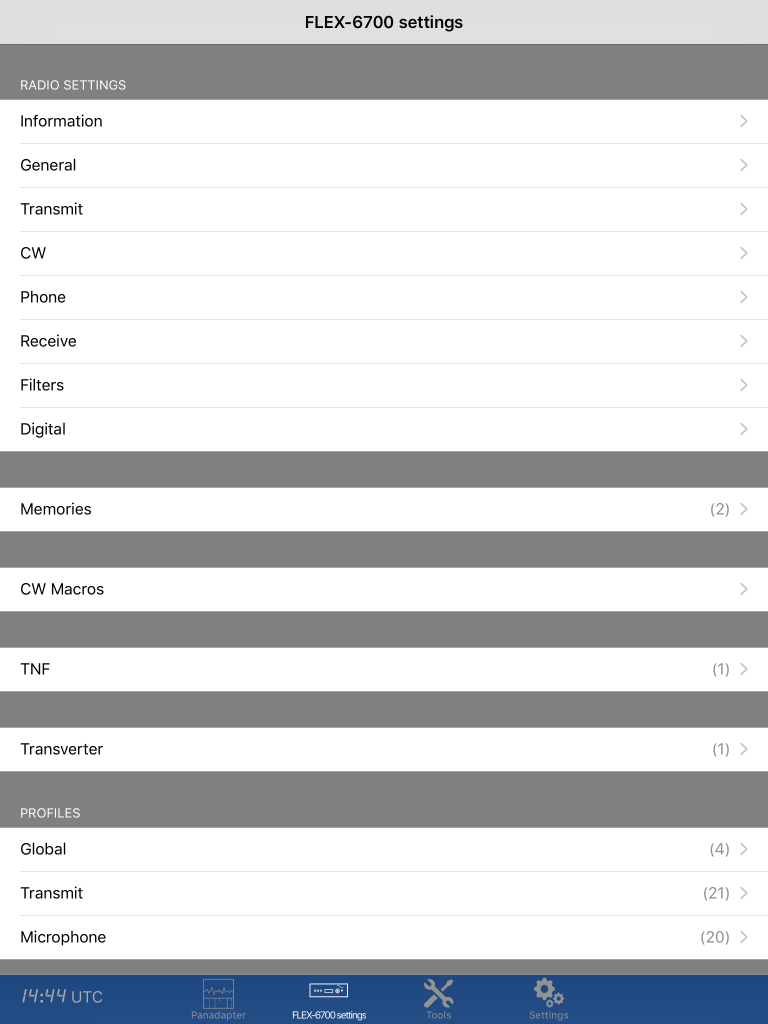 RADIO SETTINGS
The Information menu provides information about your Device such as Region Code, Model, Serial # etc. all of which can not be altered.
The General, Transmit, CW, Phone, Receive, Filters and Digital menus are providing possibilities to alter various settings pretty much in the same way as SmartSDR for Windows does from it's Settings menu.
MEMORIES
The Memories section allows you to maintain all Memories stored on your device. Different to SmartSDR for Winwows, this App also allows you to sort the Memories by Band.
TNF
The TNF section can be used to maintain and select TNFs, stored in your FlexRadio. There is nothing similar available in SmartSDR so far.
TRANSVERTER
The Transverter section can be used to maintain the settings for your Transverters, if available. Any Transverter maintained here, can be selected using the left Band menu.
USB CABLE
This section allows to maintain USB Cables as introduced with SmartSDR version 1.10. More information can be found in this Document.
After opening this USB Cable section, you will see a list of all available USB Cables of your FlexRadio:

Each line in this list represents one recognized USB Cable with its assigned Name, Serial number and type. The Dot inside the circle indicates that that particular cable is currently connected.
PLEASE NOTE: Different to SmartSDR for Windows, additional cables cannot be created manually. Instead, they just need to be connected once to the Radio and after this, the new cable will show up in this list and can be configured or even deleted again.
All configurations, including the Name are stored on the Radio. Changes from the iOS App will be available for the Windows Version as well and vice versa.
Maintaining USB Cable entries is similar to the other screens like the TNF or Transverter section. Entries can be maintained by hitting the edit button or deleted by swiping the line to the left.
The editing screen offers the same options like the Windows Version. Depending on the Type selection, you will see different additional options.
For CAT Cables you can maintain Source and CAT specific settings like Speed (Baudrate) etc.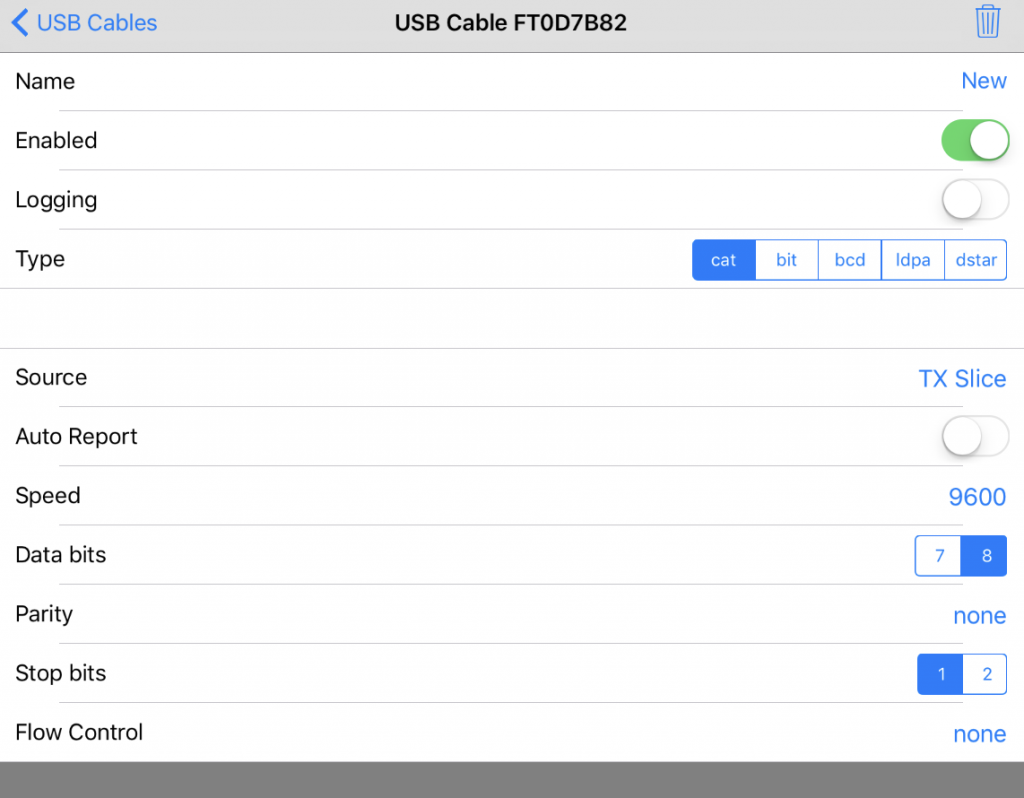 For BIT Cables, you can configure each Bit-Pin individually by tapping on Edit …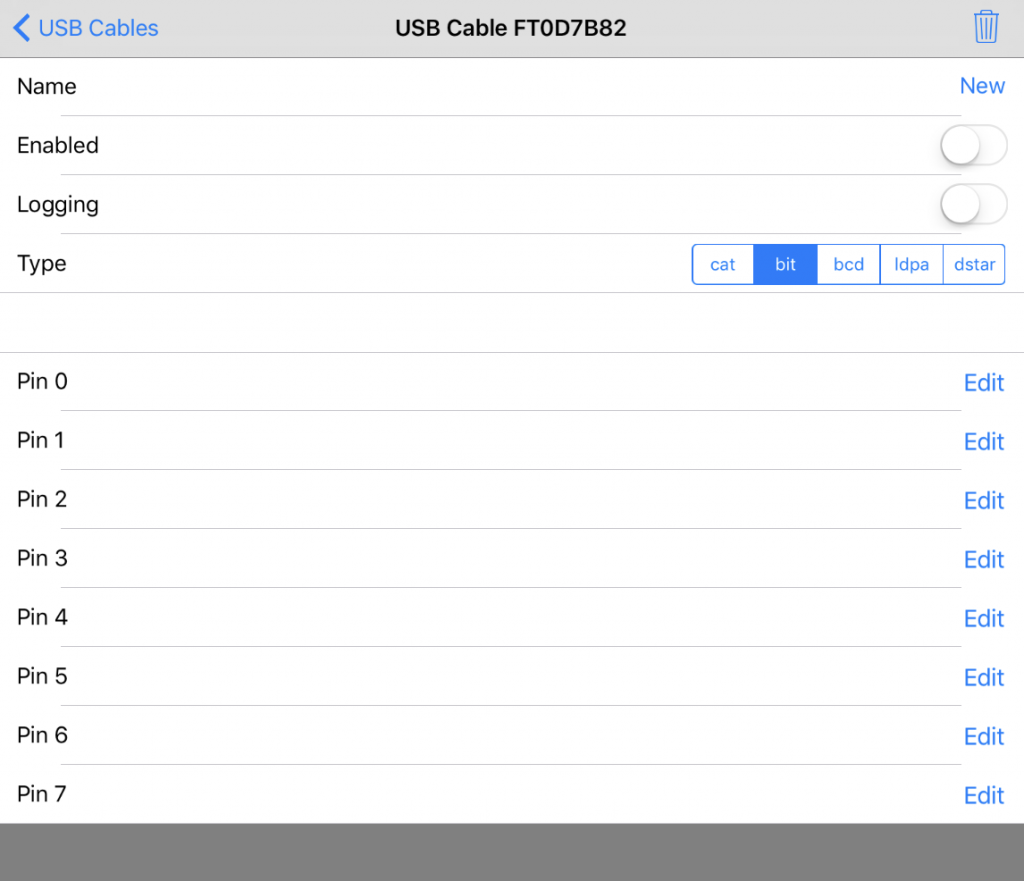 … and select the desired options for the Pin.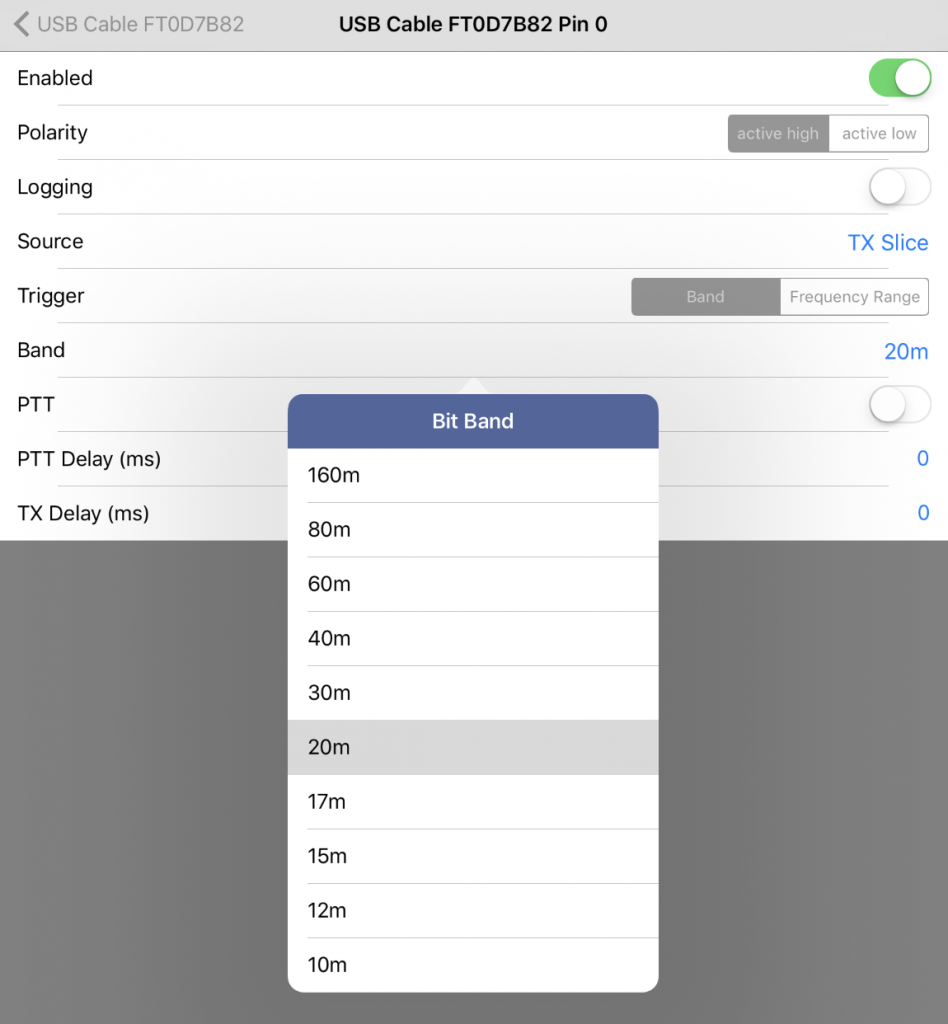 PROFILES
Under PROFILES you can maintain or select Global, Transmit or Microphone Profiles which are stored on your FlexRadio.
ATU
Under ATU you can find the "Clear all ATU Memories" button.
5.
Tools
This App also provides additional features (Tools).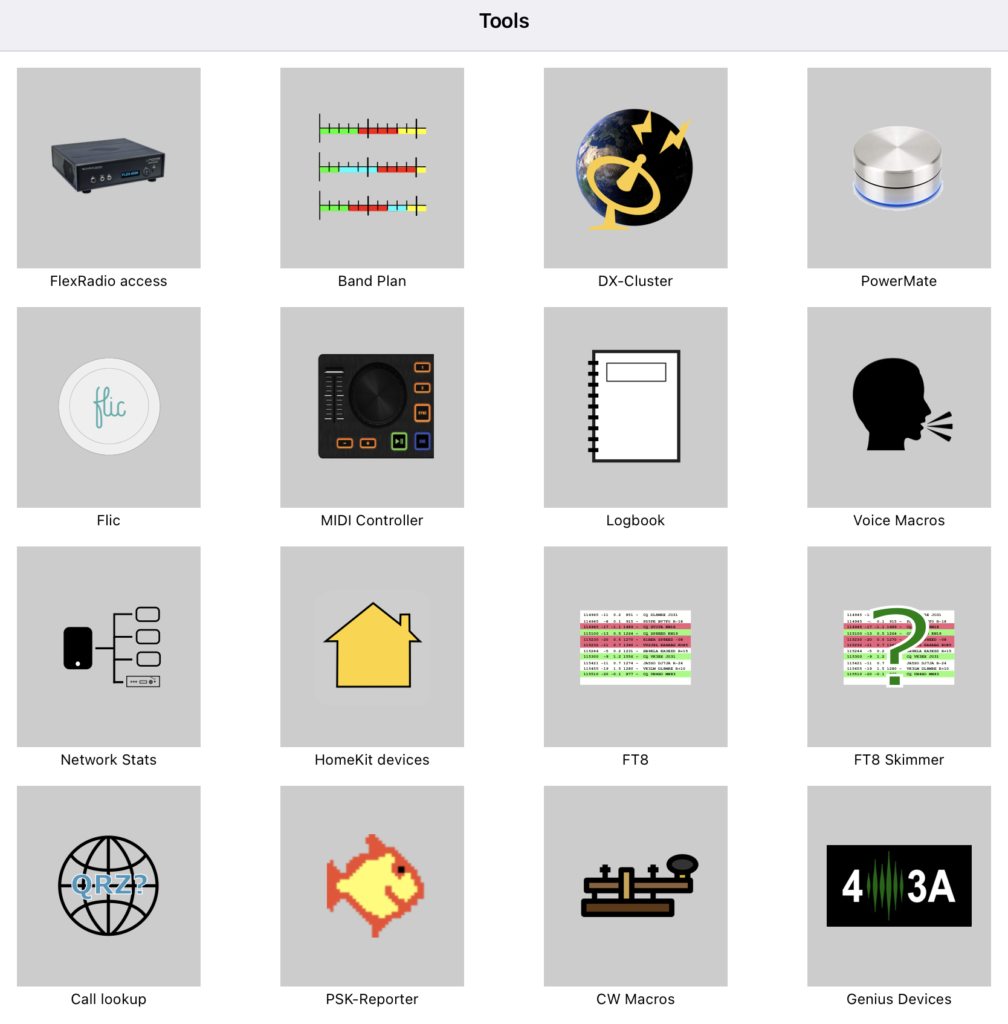 As the number of Tools is growing and in order to keep this Main Manual smaller, Tools are explained in a separate Manual which can be found here:
6.
Appendix
My App was tested by many HAMs who helped me to identify and fix several bugs. They also provided profound and valuable feedback on how to make this App as useful as it currently is. I like to say again a "big THANK YOU!" to all of you.
However, I trust, the App still contains bugs and leaves room for further improvements as it is just Software. Besides providing new additional features, I will of course continuously provide minor and larger improvements and of course bug fixes.
In addition, I will have to provide updates in line with new SmartSDR versions and FlexRadio firmware updates. This alone will require some effort.
But please don't hesitate to ask for features you are missing or would find useful and please let me know if you may find a bug or something is not working as expected.
Maybe you want to have a look at the Common issues chapter further below which will updated from time to time to address common issues and questions I am receiving.
To contact me, ideally, use the Support button on the Settings screen of the App which will send the Version numbers along with your mail.
6.1.
Common issues
Connection freezes after exactly five minutes
A few Netgrar Routers have a bug known as "False UDP Flood Detection". This Router Bug causes the communication with this App freeze exactly after 5 minutes. This can also happen if such a Router is installed at either end of a SmartLink connection. Unfortunately, this known bug is not yet fixed by Netgear by the time of writing but if you are affected, you may want to check for a router update. If that doesn't help then unfortunately the only solution is to replace your Netgear Router – which is, by the way, no bad idea as Netgear Routers are well known for their bugs and security issues.
No TX Audio sound or no transmission at all
If TX audio in SSB used to work and doesn't work any longer after re-connecting, please try to change the Microphone input source from iPad or iPhone to something else and then back to iPad or iPhone (using the right menu, button above the PROC button).
If this doesn't help, common causes of missing or low Microphone transmission sound are:
Most common: Wrong Microphone input selection. (Use the right menu and ensure iPhone or iPad is selected as Microphone input. This is the button above the "PROC" button)
Confused between currently selected (active) and TX Slice (ensure that TX mode is on for the Slice you are currently expecting transmission)
DAX enabled (DAX needs to be disabled. Ensure that DAX is grayed out by using the right menu)
Wrong mode selection (e.g. CW instead of LSB/USB)
Low Microphone gain (Use the right Menu and ensure the gain slider is set high enough)
Low general "Microphone adjust" gain (Use the slider in the left Audio menu at least at center position)
If you are using SSB with VOX, check if the VOX threshold value is low enough to get triggered.
If the issue persists, try to switch to another Microphone Profile (right menu, button left from +ACC)
Can't connect to the Radio
You can't connect if you accidentally disabled Local Network access for the App. You can re-enable Local Network access in the iOS Settings under Privacy -> Local Network.

Here, you should see an entry for SmartSDR which should be enabled. If you don't see this entry, continue to use the fixed IP until you get the permission question from iOS.
Still not able to connect to my FlexRadio (locally)

If you can't connect to your FlexRadio by using this App, please try to connect to your Radio by using SmartSDR for Windows or your Maestro if possible. If this also fails, there might be a network issue. Sometimes it also happens that it is necessary to restart the FlexRadio in order to be able to connect again.
If SmartSDR for Windows or Maestro can connect, in normal situations, on a regular Home Network, the App should also be able to connect to your FlexRadio without any further setting.
If, for some reason, the Flex Discovery procedure is not working (e.g. if you are using a firewall or VPN that doesn't pass through broadcast messages), you can try the following:
1.) Scan instead of Discovery
Try to enable the Scan instead of Discovery setting in the "Show Extended settings" section. Now, when you try to connect to your Flex, the whole network will be scanned for a FlexRadio. This may take longer than the regular Discovery procedure. Or, try the opposite, when you previously only tried "Scan instead of Discovery", switch this off and try again.
2.) Fixed IP
If you already know the IP Address of your FlexRadio, you can enter the IP Address in the "Show Extended Settings" section and chose Fixed. Next time, when you try to connect to your Radio, the App only tries to connect to this particular IP Address.
If you still can't connect, please check your WiFi settings. If, for instance, you are using a WiFi Guest Network connection, you will be able to browse the Internet but not to connect to your FlexRadio.
For connecting remotely from the Internet to your FlexRadio, you will need to setup a "Virtual Private Network" (VPN). There are various options on how to setup such a VPN. It is important that the VPN passes UDP Packets, especially on ports 4991 and 4992 through. For help on setting up a VPN, please consult the FlexRadio Community website where many HAMs already discussed various solutions.
A common mistake, when using a VPN such as Softether, is to use the same subnet on both ends of the VPN. For example, if your home Network is using an IP Address starting with 192.168.0.x and the Network you are currently using for Remote access also starts with 192.168.0.x – THIS WILL NOT WORK. The solution is to change one of the IP Address ranges on one end, for instance to 192.168.1.x or anything else. To find out if this is your issue, try to connect from another WiFi Network such as a public free WiFi or even via Cell (3G/4G/LTE) network and see if this works.
Distorted TX signal, especially on FT8
To monitor your TX signal, I suggest to turn on "Show TX in Waterfall" from the Flex-6xxx settings Menu -> Transmit. With this setting enabled, you can see the shape of our TX signal on the Panadapter.
If you see, that your signal is distorted, try to lower the FPS slider in the left Audio menu. Also the Rate slider may help but mainly the FPS slider.
Another source for a disrupted TX signal could be network issues. To verify this, open the Network Stats tool. Some Errors are normal but the percentage should always be below 0.05 %.
Cannot transmit – PTT Button grayed out
Please check if you accidentally enabled Listen only mode on the left Audio Menu.
No Sound, too low or no sound at all from the iPhone/iPad Speaker

Common causes of no or low sound output from the iPhone/iPad are:
Audio is muted (Speaker Icon at the top)
Under Audio (left menu) "iPad Audio" (or "iPhone Audio"), not switched on
Current selected Slice muted (Speaker Icon on Slice detail screen)
Current selected Slice volume too low (Tap on Audio on the Slice Detail screen and use the Volume Slider)
iPhone/iPad Volume set too low (Use the physical buttons at the side of your iPhone/iPad to increase the volume)
A Bluetooth or physical headset is connected and audio comes out of this accessory and not the internal speaker
Volume adjust slider in the settings screen set too low
In settings, set "Default to Speaker" to on and disable "Allow Stereo" may increase output volume
Too low Microphone gain
To increase the Microphone gain, you can not only use the Slider in the right Menu but also the Mic Boost setting on the Flex Settings screen as well as the "Microphone adjust" slider in the left Audio menu (not the Flex Settings) screen.
Can not select the iPad (or iPhone) microphone
If the Microphone selection always jumps back from iPad (or iPhone) to MIC, just select another MIC Profile (the button left from the +ACC button).
Background: A Microphone profile can only be used once at a time from a device. If the same profile is being used by a Maestro or the M-Model front-panel or even from another SmartSDR instance, it will not work.
No Bluetooth Headset output

Ensure you have audio even without the Headset
Ensure you have audio on your Headset without using the App
Ensure the Setting "Default to Speaker" in the Settings screen is switched off
Ensure audio gain of the headset is set high enough
Toggle the top speaker icon to mute and un-mute to see if the Headset starts working then.
Use the control center (opens when sliding in from the bottom) to double check if your Headset is available for selection and is selected for audio output.
In case of distorted or interrupted Headset audio, please unset the "Large Buffer" setting on the settings screen.
Distorted or interrupted sound and waterfall
The FlexRadio submits a huge amount of data to the App and the App has to process these packages real quick. This uses up a high percentage of the Network and CPU. For this reason, the Network needs to be very responsive and the CPU of your device need not to be strained by other Apps or tasks in the background.
For the Network, please ensure the best performance as possible. For WiFi, ensure you have a proper connection on a channel that is not being used by somebody else. Ideally use the 5 GHz band as this is usually not yet as busy as 2.4 GHz Band. If on the road and using the Cell network, ensure you have LTE / 4G available with enough bandwidth. For your local Network, use good Switches, good Network cables and a 1 GBit/s Network, if possible.
On your iPad / iPhone try the following settings:
Turn Bluetooth off to see if this helps (iOS Settings -> Bluetooth)
If you can't turn Bluetooth off, remove all paired but no longer needed devices. iOS is looking for these devices from time to time which degrades network traffic.
Turn off location Services (iOS Settings -> Privacy -> Location Services)
Turn off Background App refresh (iOS Settings -> General -> Background App refresh)
Turn off automatic downloads (iOS Settings -> iTunes & App Store -> everything under AUTOMATIC DOWNLOADS)
Change the NET Setting of the App to Slow (App -> left Menu NET -> Slow)
Change FPS and Rate of the App to lower values (App -> left Menu -> Disp)
If one of these settings fixes the issue, you can then try to narrow down the root cause of the issue.
You can also try to enable the "Large Buffer" setting under "Show extended Setings" in the App settings. (Please note, some Headsets are not compatible to large audio buffers.)
Another cause for Distortions can be slow DX-Cluster updates. If you have DX-Cluster enabled, please switch it off to see if the problems discontinue. If that's the case, please try a different DX-Cluster Server or increase the update interval.
Distorted Audio and/or sluggish menus and scrolling
Especially on iPad 4 , the CPU and internal memory can not handle Panadapter drawing at the highest rates.
To solve this issue, please first tap on "NET" on the left menu and select "Slow".
Next, tap on "Disp" on the left menu and move the "FPS" and "Rate" slider to almost zero.
Please now check if your problems have been solved. If so, you can now experiment to increase the NET Speed and FPS or Rate sliders to higher values as desired and until the problems of sluggish menus or distortions come back.
The App always starts on 20m
If "Low Bandwidth connection" is enabled in the Settings of the App, the FlexRadio will always use default settings (e.g. only one Panadapter and slice) to ensure the smallest amount of data to be exchanged over the network. These "Low Bandwith" default settings also causes the Radio to start at a pre-defined frequency on the 20m Band.
Headset only Mono
Headsets can not be used in Stereo due to restrictions of iOS. iOS reverts audio output to headsets back to mono as soon as the Microphone is being used like for a regular phone call where stereo is not supported.
There is no solution yet as this needs to be fixed by Apple.
However, it is at least worth a try to select the "Allow Stereo" setting from the Settings screen of the App.
CWX Speed and Delay settings are not regarded
Most likely, you switched off CWX Sync in the Radio CW Settings. To enable CWX Sync, connect to your radio. Then select the FLEX-6xxx Settings tap at the bottom. Here, select CW and switch CWX Sync to on.
The "Restore" button for In-App Purchases reports an error
If the "Restore" button is not working, it might be the case that your purchase has not been synchronized to your device for some reason. But don't worry. Instead, just hit the "Buy" button. You may need to enter your Apple ID or fingerprint and then you should see a message saying that you already purchased this item and if you want to download that item for free again.
If you don't get this message, please double check if you are using the same Apple ID you have used for the original purchase.
No Waterfall, Panadapter and/or Audio
If you can't see the Waterfall but it is possible to connect to your Radio and you are even able to control the frequency, these are the most common reasons:
If you are running Firmware Version 1.x on your Radio, turn off "Network MTU" and "Reduce DAX Bandwidth" under Settings -> Show Extended Settings.
If you are accidentally using SmartLink for a local connection, while you are using WiFi at the same location where your Radio is located, you will have to use the LAN mode, not SmartLink. SmartLink is meant for remote access.
If you are trying to remote connect to your Radio using SmartLink and don't see the Waterfall, the UDP part of the connection is not working. To fix this, please see the following point "SmartLink doesn't connect properly".
If you are using T-Mobile in the US (and maybe some other providers might have the same issue) and they are providing IPv6 connections only, you need to enable the IPv6 setting in the App. In all other cases, this setting should be turned off because the Radio itself doesn't support IPv6.
In other cases, a missing Waterfall indicates missing UDP data traffic. So if you are using a VPN or Firewall or a Guest WiFi access solution or are bridging two different networks, please double check the settings for these setups. UDP (and not only TCP) traffic must pass through between your Radio, over WiFi to your iPhone or iPad.
SmartLink doesn't connect properly
In case of SmartLink problems, please follow these steps:
Please note: When testing SmartLink, better change your "Connection type" to "SmartLink" and not "both". If you want to use the App later locally on WiFi again, you can change it back to "Local" or "Both".
If you have used Social Logins (Facebook or Google) in the past, Social Logins have been removed from the App for privacy reasons. If that's your problem, please continue reading chapter 3.9. Remote access using SmartLink.
After setting up SmartLink with SmartSDR for Windows or Mac, always try the SmartLink test button and check if it turns green. If it's not green, you will need to sort this issue out on your Radio, SmartSDR and your Router before you continue.
Next, ensure that your iPad/iPhone is not connected to your network via WiFi (e.g. disable WiFi)
Start the App, change the "Connection Type" to "SmartLink" (as mentioned before) and try to connect
You shout see the SmartLink setup screen titled "Setting up SmartLink". In case you have not yet entered your SmartLink credentials, you will be prompted for them now.  This screen should not end with an error. In case of an error, either the SmartLink server can not be contacted or your credentials are not correct. If this screen disappears without an error, all is well.
Next, try to connect to your Radio (Tap on the Panadapter screen or the "Con" button) and you should see your Radio in the Radio chooser.
If you tap on the Radio, and it doesn't connect at all or drops you back, proceed as follows:

Back on the Radio chooser, tap on the (i) Icon for your Radio
Scroll down and locate the "Remote TCP Port" and "Remote UDP Port" and double check if these are the same ports you have configured for SmartLink and manually forwarded in your router. If you are using UPnP, there might be different ports and they don't have to be manually forwarded but in no case can these ports be anything equal to or below zero.
If these ports don't match or are equal to or below zero, try to setup SmartLink again on your Radio, use manual settings and forward the same ports on your router.
Here are some other considerations regarding SmartLink:
If your internet provider like (T-Mobile) only supports IPv6, try to use the IPv6 switch in the "Show Extended Settings" of the App.
It is sometimes necessary to power-cycle the Radio when SmartLink Settings have been changed.
The most common issue with SmartLink is an issue with "Automatic" setup mode of SmartLink. It may work for some time after the initial SmartLink setup but then, all of a sudden, it discontinues to work. For this reason it is recommended NOT TO USE THE AUTOMATIC MODE but the Manual mode instead. The setup instructions here can be used to setup SmartLink (or change an existing setup) in Manual mode.
In the past (around 2018) the was a change of the MAC Address of the FlexRadio network interfaces which may cause some trouble with your Router settings because the Router still assumes your Radio has still the same MAC Address and thus, still uses the wrong IP Address for your Radio. In this case, switch off your Radio, try to delete all traces of your Radio in your Router and start over registering SmartLink and configuring your Router.
Before assuming an issue with the this App, try either to connect to your Radio from another Network using SmartSDR for Windows (e.g. visit a public WiFi spot) or ask a HAM fellow to try to connect.
There are countless resources at the FlexRadio and community website with information on how to setup SmartLink. Just head to these websites or use Google.
However, here are two resources: